May 31, 2012
Contact
Phone: 804.289.8258
Email: ncammara@richmond.edu
Office:
Boatwright Memorial Library Rm#334
28 Westhampton Way
University of Richmond, Virginia 23173
May 29, 2012
The mobile PC business is booming, and thanks to exploding iPad sales, Apple remains its undisputed leader.
According to NPD, Apple shipped 17.2 million mobile PCs* worldwide during the first quarter of 2012, enough to capture a 22.5 percent share of the market - more than double that of its closest rival, Hewlett-Packard. During the same period, HP shipped just 8.9 million mobile PCs for an 11.6 percent market share.
How did Apple manage to dominate PC leader HP in the mobile PC market? The iPad.
Of the 17.2 million "mobile PCs" Apple shipped, 13.6 million were iPads. And in that particular segment of the market - tablets - Apple's domination is unrelenting. In the first quarter, Apple claimed a stunning 62.8 percent share of the tablet market, dwarfing every single one of its rivals. Samsung, its next closest rival, shipped just 1.6 million tablets during the quarter, for a share of 7.5 percent. Amazon followed with 900,000 tablets shipped and a 4 percent share. Bringing up the rear: Research In Motion and Asus, which sold 500,000 tablets each, for a 2.3 percent market share.
*NPD defines mobile PCs as tablets and laptops.
May 22, 2012
Chinese retailers have started selling a miniature Linux computer that is housed in a 3.5-inch plastic case slightly larger than a USB thumb drive. Individual units are available online for $74.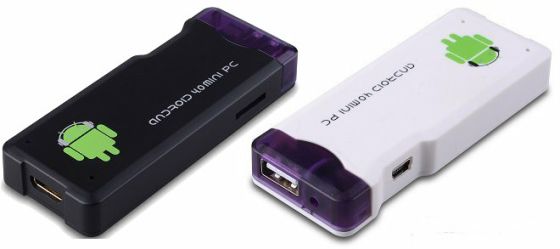 The MK802 is being toughted as the "world's smallest volume Android device for your TV."  It house's an advanced ARM cortex-A8 core processor, with a 3D graphical processor, and 512M DDR3 high-capacity memory.  It makes use of Google's Android 4.0 operation system, and will give you access to the Google marketplace.
May 7, 2012
The Center for Teaching, Learning and Technology's Faculty Academy seeks to provide faculty with the skills and knowledge of using technology and digital media to create significant learning experiences for students. This year's Faculty Academy is composed of two tracks: Technology-facilitated Course Design (TFCD) and Digital Media Production (DMP). The TFCD track, led by Jon Messer and Dr. Matthew Trevett-Smith, will examine principles of instructional design, assessment and evaluation in Blackboard, and issues related to using rich and social media in course development. The DMP track, led by Hil Scott and Dr. Kenneth Warren, will explore the concepts and technologies of creating and publishing digital audio and video, as well as the production and pedagogy of digital storytelling.
The Faculty Academy began yesterday (5/7/12) with a keynote presentation by Dr. Gardner Campbell on Teaching, Learning and the Digital Imagination.
On Tuesday and Wednesday, faculty will break out into their selected track and engage in hands on activities and discussions with the track leaders and library liaison.
Each track has two full day of activities to look forward to.
May 7, 2012
Today is the first day of the University of Richmond's Center for Teaching, Learning, and Technology Faculty Academy.  And to kick things off, we have invited Dr. Gardner Campbell, Director of Professional Development and Innovative Initiatives at Virginia Tech, to deliver the keynote address, "Finding the Elusive Fourth 'R'."
The event will take place today (May 7, 2012) at 1:00pm in the Weinstein International Center Commons.
Reading, writing, and (a)rithmetic have long constituted the folk wisdom of the literacies we should help our students achieve. There is now a growing consensus that a fourth 'r' has emerged, though there is as yet no consensus as to what it should be. His presentation will explore three leading candidates for the fourth 'r' and offer some thoughts toward a synthesis he calls the "digital imagination."
All University faculty are invited to attend and I'm sure it will be as engaging as it will be informative.
May 2, 2012
This past year, Dr. Berry utilized multiple modes of inquiry, including science, literature, film, art, song, and current events to spark student interest in human aging and development.  When approached from a pedagogical perspective, DST becomes a succinct and integrative teaching and learning tool. It challenges students to synch narrative with visual images. Digital storytelling "allows students to learn in a very efficient, focused manner."
At the end of the semester, it is strongly recommended that instructors export their BlackBoard Grade Center to an Excel file because all student information (including their grades) are removed from Blackboard sixty days after the semester ends. This issue will provide you with eight easy steps to export your Blackboard Grade Center.
Plus a word from CTLT Director Kevin J. T. Creamer, and what your CTLT liaison has planned for this summer.
Please Click Here to Download this issue.
If you have any comments, questions, or ideas for future issues, please contact the Learning@Richmond editor, Dr. Matthew Trevett-Smith.
Links featured in this issue:
CTLT Liaison Blog
LearnDST.Richmond.edu
Free PDF Version of "Being Fluent with Information Technology"